How world leaders travel: Boeing's latest mile-high luxury
September 7, 2012 -- Updated 2011 GMT (0411 HKT)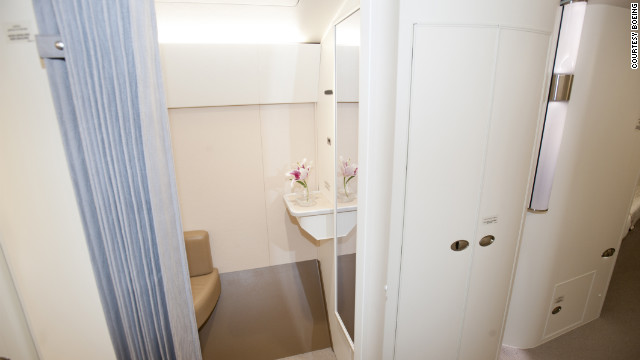 The luxurious upper deck cabin area of Boeing's latest luxury offering, the Aeroloft, comes complete with a changing area to get comfortable before a well-deserved rest.
The Aeroloft sleeping area fitted on VIP BBJ 747-8 aircraft was installed by Boeing Global Transport & Executive Systems (GTES) in Kansas.
The Aeroloft-fitted BBJ aircrafts will have an additional 36.5 meters of cabin space.
Private suites will provide space for a world leader take a quick nap in between state affairs.
Boeing says the modified cabin area will mainly be used by support staff or accompanying passengers of the primary customer.
Artistic rendering of how the Aeroloft cabin fits into the top deck of a Boeing BBJ 747-8.
BBJ President, captain Steve Taylor and BBJ chief pilot, captain Rene Gonzalez in the cockpit.
The first Boeing BBJ with fitted Aeroloft cabin departs Wichita, KS as it heads to Hamburg, Germany for more luxury fittings.
VIP comfort among the clouds
VIP comfort among the clouds
VIP comfort among the clouds
VIP comfort among the clouds
VIP comfort among the clouds
VIP comfort among the clouds
VIP comfort among the clouds
VIP comfort among the clouds
STORY HIGHLIGHTS
Boeing take delivery of Aeroloft-fitted Boeing Business Jet
Modified BBJ 747-8 has eight private sleeping areas
To date, all purchases made by undisclosed head-of-state customers
Business Traveller is a monthly show about making the most of doing business on the road.
(CNN) -- The business-flying elite will soon be able to cruise the skies in even more comfort as one of the world's leading aircraft manufacturers unveils its latest VIP cabin fittings.
Boeing has taken delivery of the first Boeing Business jet (BBJ) fitted with the new Aeroloft. Boeing said of the nine Aeroloft-modified BBJ aircrafts that have been sold to date, all are for destined for undisclosed head-of-state customers.
Designed by Washington-based company Greenpoint Technologies, the Aeroloft provides an additional 36.5 meters of cabin space in a VIP-configured BBJ 787-8. The new cabin design sits above the main deck of the aircraft between the upper deck and tail.
Christine Hadley, manager of sales and marketing at Greenpoint Technologies said: "The Aeroloft was developed to accommodate customer driven requirements for the Boeing 747-8 aircraft. Boeing cleared this 'overhead' area and customers desired a solution for optimal passenger space utilization."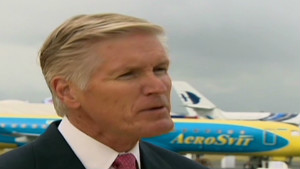 Boeing shows off at Farnborough airshow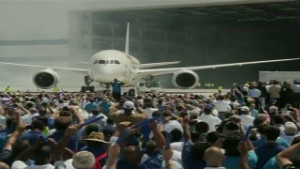 Boeing unveils new 787 Dreamliner
Exhausted business leaders can change into less formal attire before recharging their batteries in one of the eight private, luxurious sleeping quarters or sitting back in the adjacent lounge.
BBJ president, captain Steve Taylor said: We're certain all the BBJ 747-8 customers receiving the Aeroloft will be thrilled with this unique and comfortable space."
Taylor and BBJ chief pilot, captain Rene Gonzalez are flying the newly-fitted plane to Lufthansa Technik in Hamburg, Germany where more VIP interior elements are to be added for the first customer.
Boeing is scheduled to deliver another two BBJ 787-8s this year.
But high-flyers of the corporate world shouldn't rejoice just yet. The BBJ 747-8 is a large aircraft and after all the luxurious trimmings have been added, figures released by Boeing show the modified plane will have a price tag of around $500 million.

April 11, 2014 -- Updated 0212 GMT (1012 HKT)

Imagine you're a hotel company with a score of brands that seem, well, dated. All the flash amenities of yesteryear seem irrelevant today.
April 8, 2014 -- Updated 0414 GMT (1214 HKT)

The European firm has unveiled how passengers flying on its new A350 XWB might travel.
March 26, 2014 -- Updated 1335 GMT (2135 HKT)

Would you pay to cut in line for the toilets on a flight?
March 5, 2014 -- Updated 0218 GMT (1018 HKT)

Concorde is a thing of the past, but a number of companies are racing to release the first supersonic business jet.
March 3, 2014 -- Updated 0222 GMT (1022 HKT)

Though we're still in the early stages of 2014, it is already proving one of the most expensive years for the travel industry.
March 4, 2014 -- Updated 1715 GMT (0115 HKT)

At $83,200 a night, the Royal Penthouse Suite at Geneva's Hotel President Wilson is the most expensive hotel room in the world.
February 17, 2014 -- Updated 0348 GMT (1148 HKT)

From 'ascending rooms' and mini-bars to pillow menus and iPad-controls, discover the evolution of hotel room amenities.
February 17, 2014 -- Updated 1612 GMT (0012 HKT)

There's a new group of travelers in town -- and it hardly matters which town you're talking about.
February 13, 2014 -- Updated 0457 GMT (1257 HKT)

It's Boeing vs. Airbus as the heavy-weight plane makers face off at the Singapore airshow.
February 10, 2014 -- Updated 0203 GMT (1003 HKT)

How airlines are making in-flight maps more interactive and monetizing them.
February 4, 2014 -- Updated 0103 GMT (0903 HKT)

What do new planes have to endure during cold weather testing?

Today's five most popular stories