U.N. envoy says he'll 'spare no effort' to halt Syria bloodshed
September 14, 2012 -- Updated 1130 GMT (1930 HKT)
STORY HIGHLIGHTS
Lakhdar Brahimi makes his first visit to Damascus as U.N. envoy
Brahimi replaced Kofi Annan in August
Another 165 people were killed in Syria on Thursday, opposition group says
(CNN) -- The newly minted U.N.-Arab League envoy to Syria vowed Thursday during his first visit to Damascus to "spare no effort" to help end that country's civil war.
Lakhdar Brahimi, who replaced Kofi Annan as the international community's point man for the conflict, held "candid and comprehensive" talks with Syrian Foreign Minister Walid Moallem, a U.N. statement said.
Al Qaeda leader's growing interest in Syria
Turkish PM: U.S. elections hampering action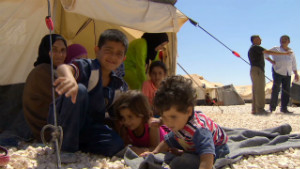 Syrian refugees pour into Jordan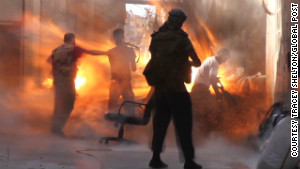 Photojournalist describes Syria bombing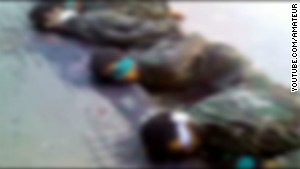 Syria accused of using 'barrel bombs'
"Mr. Brahimi emphasized that, as he said before, he would spare no effort to help find a solution to the crisis," the statement read. "His only masters in this endeavor were the Syrian people, whose welfare and security were his prime concern."
Brahimi, a former Algerian foreign minister and U.N. envoy to Afghanistan, was also to meet with opposition figures and other groups during his visit.
Brahimi was named to the post after Annan resigned in August, blasting the Syrian government for refusing to implement a cease-fire he had negotiated in April and complaining about the "escalating military campaign" of the opposition.
The 18-month-old conflict claimed another 165 lives Thursday, opposition activists reported, with 66 reported in the suburbs of Damascus and another 52 in the commercial hub of Aleppo. Both cities have been the scene of recent intense fighting between government troops and rebel fighters.
Heart-rending choices in warzone hospital
One Syrian family's desperate story

Part of complete coverage on
Syrian crisis
March 4, 2014 -- Updated 1328 GMT (2128 HKT)

Syria has submitted a revised proposal "that aims to complete the removal of all chemicals" from the country before the end of April.
February 18, 2014 -- Updated 1032 GMT (1832 HKT)

CNN's Arwa Damon reports on ISIS defector who says destroying ISIS as critical as defeating regime.
February 18, 2014 -- Updated 0353 GMT (1153 HKT)

The U.S. wants a United Nations resolution that will, among other things, bring humanitarian aid for refugees in Syria.
February 17, 2014 -- Updated 1259 GMT (2059 HKT)

When the radical Islamist militia ISIS arrived in the Syrian town of Addana a year ago, many welcomed them. What followed changed their minds.
February 17, 2014 -- Updated 1449 GMT (2249 HKT)

CNN obtained video clips from Syrian activists documenting the atrocities committed by members of the Islamic State in Iraq and Syria, known as ISIS.
February 18, 2014 -- Updated 2017 GMT (0417 HKT)

On Crossfire, Danielle Pletka discusses what the U.S. needs to do to resolve the Syria crisis.
February 6, 2014 -- Updated 0101 GMT (0901 HKT)

Her almond-shaped brown eyes shine through her sunken face as a doctor lifts her sweater to reveal a tiny rib cage pushing against her skin.
February 4, 2014 -- Updated 1746 GMT (0146 HKT)

The Zaatari refugee camp in Jordan is home to around 100,000 Syrian refugees. CNN spent several days meeting the residents of the camp.
January 22, 2014 -- Updated 1959 GMT (0359 HKT)

Renowned war crimes prosecutors and forensic experts have found "direct evidence" of "torture and killing" by the Assad regime.

Traumatized children who have witnessed the horrors of war are being helped to read -- and rebuild a normal life. CNN's Becky Anderson reports.
January 23, 2014 -- Updated 1207 GMT (2007 HKT)

A battle zone tour organized by the Syrian government for CNN and several other media outlets Wednesday was more than bizarre.
January 22, 2014 -- Updated 1735 GMT (0135 HKT)

CNN's Atika Shubert meets with the family of a little girl who was wounded in Syria, now living in a refugee camp.
January 27, 2014 -- Updated 1456 GMT (2256 HKT)

110 year old, Jabari Alawali walked for over 10 hours to reach Jordan from Syria.
Today's five most popular stories