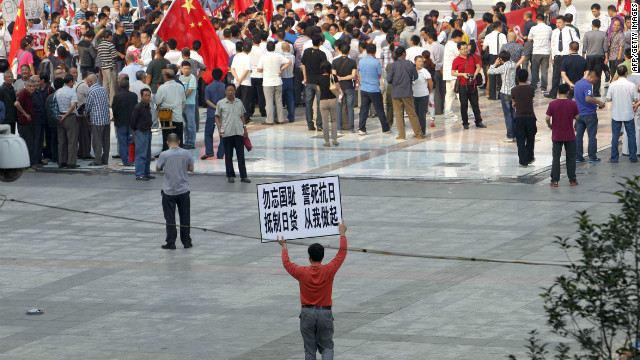 Chinese demonstrators protest on the streets in Zhengzhou, Henan province, on September 18, carrying on anti-Japanese rallies from the weekend.
Anti-Japan activists step on a Japanese flag on September 18 during a protest in front of the parliament building in Taipei to demand the Taiwan government cooperate with China against Japan.
Police walk past a closed Japanese restaurant covered with Chinese national flags as anti-Japanese protests continued outside the Japanese Embassy in Beijing on September 17.
A protester hurls a gas cannister during a demonstration over the disputed Diaoyu Islands, which is also known as Senkaku by Japan, in Shenzhen, China.
A protester tries to climb over a security barrier during an anti-Japanese protest outside its embassy in Beijing on September 15, 2012.
The protests, at times, became violent.
Chinese para-military police create a barrier to prevent protesters from breaching the Japanese embassy in Beijing.
Demonstrators showed their discontent by targeting imports from Japan, including this Japanese car damaged in Xi'an, northwest China's Shaanxi province.
Chinese protesters gather outside a JUSCO, a Japanese department store, in Qingdao, northeast China's Shandong province.
Security guards try to remove Chinese protesters who ransacked Japan's JUSCO departmental store, in Qingdao on September 15.
Police fire tear gas to disperse the crowds in Shenzhen, south China's Guangdong province.
A shredded banner shows Japanese Prime Minister Yoshihiko Noda beside a picture of Mao Zedong in Beijing.
Anti-Japan protests sweep China
Anti-Japan protests sweep China
Anti-Japan protests sweep China
Anti-Japan protests sweep China
Anti-Japan protests sweep China
Anti-Japan protests sweep China
Anti-Japan protests sweep China
Anti-Japan protests sweep China
Anti-Japan protests sweep China
Anti-Japan protests sweep China
Anti-Japan protests sweep China
Anti-Japan protests sweep China
STORY HIGHLIGHTS
State media condemned weekend's violent anti-Japanese protests in China over island ownership dispute
State media praised weekend's "expression of patriotism" but called for "rational patriotism"
Protesters had smashed, looted Japanese businesses, cars, and attacked Japanese nationals in China
Protests were latest twist in ongoing dispute over control of group of islands in East China Sea
(CNN) -- As anti-Japanese protests roiled dozens of cities across China over the weekend, Chinese state media has stepped up to condemn the violence, calling instead for "rational patriotism" to address the intensifying dispute over islands in the East China Sea.
While some protests were orderly, others spawned looting and vandalism of Japanese businesses and Japanese-made cars, as well as attacks with eggs and plastic bottles on the Japanese embassy in Beijing.
Panasonic closes China plants after violent protests
While acknowledging that the "expression of patriotism" over the weekend was a "reasonable move and natural reaction toward the provocation from the Japanese side," an editorial in the state-run Xinhua news agency cautioned on Monday that "the Chinese people should be rational and obey the law when expressing patriotic feelings, and they should abstain from 'smashing and looting.'"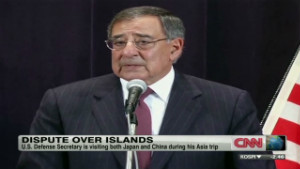 Tensions rise between Japan and China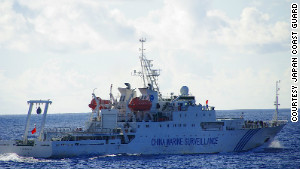 Tensions rise over Asian islands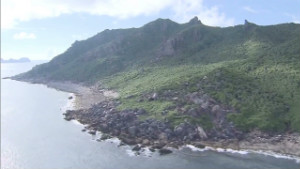 Why is Japan feuding over islands?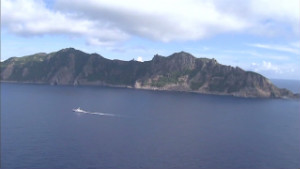 Disputed islands in East China Sea
"Wisdom is needed in the expression of patriotism," it added, which "should not come at the cost of disrupting domestic social order."
Similarly, a front-page article entitled, "Use Civilization and the Rule of Law to Consolidate Patriotic Force" in the Communist Party mouthpiece, People's Daily, praised the weekend's "patriotism" as "precious" and needing to be adequately cherished and protected."
"But being civilized, law-abiding is a basic quality of citizens. Damaging fellow citizens' legal property and taking out anger on Japanese nationals in China is extremely inappropriate," it admonished.
"In the age of globalization, we should let the world see a China that is peacefully developing, whose government is making progress and whose people are improving their qualities." People's Daily went on to conclude that patriotism needed to be expressed in a "reasonable and orderly way."
Background: How remote rock split China, Japan
Chinese citizens, media, and the government also chimed in on the popular Sina Weibo microblogging website, where the "patriotic protests" have been the top trending topic.
User XiaoGuNaiNai opined: "Chinese people are too irrational, looting everywhere in the name of patriotism. In the end, don't we have to clean it all up ourselves, allowing the Japanese to laugh at us? If you have problems, take them to Japan. Smashing, burning, and destroying our surroundings only hurts the Chinese people!"
"The Sino-Japanese economic war has already officially begun. I hope it won't end in a situation where everyone loses," posted Wang Fuzhong, a popular economics scholar at the Central University of Finance and Economics.
The Southern People Weekly magazine also cautioned: "Vandalism in the name of patriotism is a felony," adding that destroying property and infringing on the rights of others did not make for a "civil and lawful society."
Guangzhou city police posted a call on its official Weibo account for netizens to photograph vandals and submit their photos to police for a reward.
The protests were triggered by the Japanese government's announcement last week that it had purchased several of the disputed islands from a Japanese family to bring them under public ownership.
The move was the latest flashpoint in a long-simmering dispute over control of the uninhabited islands, which are known in China as the Diaoyu Islands, and in Japan as the Senkaku Islands.
Interactive map: Who claims what?
Sacha Ghalili and Qixin Wang contributed to this report.